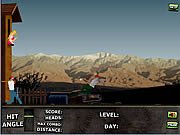 It's a quite fun baseball game where you have to play baseball being trapped into a lot of zombies. The undead zombies have attacked your home, and all you got to fight with them is your baseball bat. Your wife is gonna throw the balls from the balcony as the pitcher of the game.
And now, what you need to do is – hit the balls accurately targeting the zombies. You have to stop as many zombies as you can by hitting those with the baseballs.
Firstly, you should let the ball bounce up by hitting the ground and after that, hit the ball precisely and with great force to knock down the zombies. You will earn double score once you cut the zombies' heads off by hitting them with the baseball.