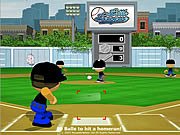 Pinch Hitter has come back with the second version of this exciting and thrilling baseball games series! Just input your name and pick a team among the 30 others.
Customization option is also available to make your jersey unique and extraordinary. All of these options can be found on the player profile page. You will also locate the player's stats on the left of the page.
You will start playing the game as the League player, and you have to make it to the Little League, and the ultimate destination will be the Major League. But, each of these leagues includes several levels, and you have to complete various tasks to pass each of these levels.