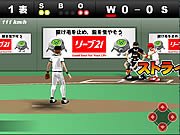 In beginning level of the inning, you have to hit the ball with your baseball bat and have to try to earn a home run. As you proceed to the highest level of the inning, you will play the game as the pitcher.
Use your mouse to choose where you are going to throw the ball and after that, you need to stop the power meter by clicking on the mouse.
You should try to attain the highest power to throw the ball so that you can be able to strike out the batter. There are 9 innings in this game and sometimes, you may find a rematch.
Great exciting baseball game for the players who love baseball.