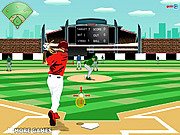 You will find two modes in this Baseball League game and those are – Practice and Championship. Just start playing the game by only selecting a difficulty level. Complete all the objectives to win the league. You should start with the practice mode if you are just a beginner and need some training on it.
You have to hit the target indicating the place of passing the ball. Move and target the marked circle using your mouse. For having a straight shot, attempt to keep it close.
You can slice or hook the shot by managing the direction of the circle.  You need to click to hit the ball, once it's pitched. And then your batter will run forward aiming to the first base. As soon as he gets close to the base, click Slide to make him reach faster.