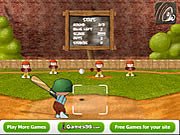 Baseball Jam is a great fun and exciting sports game where you have to hit the ball correctly with your bat. You can move your player horizontally by using the mouse. Be careful when the ball flies. Hit precisely when the ball comes closer to the bat.
Remember, when you swing your bat too early, you have to indicate enough power to the shot. Flat shots come up with fewer points. On the other hand, it will be counted as a strike, if you take too long to swing the bat.
You will find every detail stats of the game, such as the number of the strikes, score points, the number of balls left, the outs, the number of rounds and other information on the blackboard above the field.
If you want to score homers, you should hit the ball aiming at the wall behind the area. What's your capability and how many home runs and points, you can earn in this Baseball Jam?